Minnesota Twins: Despite the playoff loss, the Twins season was a success
The Minnesota Twins may have seen their season come to a close on Tuesday night, but they still had a successful season.
It was a giant buzzkill for the Minnesota Twins. The good guys got to a 3-0 start before the New York Yankees could even have an at-bat in Tuesday's American League Wild Card Game, but an ineffective Ervin Santana and a big time ruling from Aaron Judge quickly added up the Yankees runs into a defeating score of the Twins.
As sad as the defeat and lack of advancing further in the playoffs is for the Twins, we must remember that this season has still been a raving success for the ball club. There is no reason that the Twins should have even been playing in the playoffs, but they made it.
The Twins, as you are well aware of by now, lost over 100 games in 2016. They were the first team to go from losing 100 and make it into the playoffs which is incredibly impressive, especially when you think about the lack of turnover the roster saw between the two seasons.
The bullpen for the Twins was a mess for the majority of the season. Bartolo Colon was the third best starting pitcher, so you know the starting pitching wasn't that good either. Miguel Sano was a world beater in the first half of the season, but didn't play a good majority of the second half especially in the run for the second Wild Card spot.
The really sad thing is the Twins should have won on Tuesday night. If Ervin Santana was close to the ace quality Ervin Santana, the team probably would have walked out of Yankee Stadium with a victory but he looked putrid. His slider had no bite which left the Twins scratching and clawing but never really drawing much blood.
A .500 record would have truly been a success for the Twins in 2017, but they overshot that. They made the playoffs and, in very typical Twins form, they lost to the Yankees in the playoffs. The sky is blue and the grass is green, too.
I'm not trying to make excuses for the Twins, I just want us to keep in mind that the Twins shouldn't have even been in the playoffs. It sucks losing to the Yankees, but it was a great accomplishment just to have the opportunity to play the Yankees.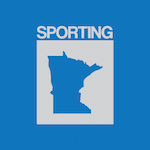 Want your voice heard? Join the Sporting Sota team!
Write for us!
Next season the tune will be different. Expectations will be much higher for next season since the Twins reached this level of success. For now, enjoy the rest of the playoffs and enjoy what the Twins gave us in 2017.