Minnesota Wild: Defense Struggles Late, 'We can't keep doing this'
Open lane in front of the net. Wide open shot from the top of the circle. Puck watching near the goalcrease. These mishaps regularly lead to defeat for the Minnesota Wild.
Once again, the Minnesota Wild has failed to come away with a win while in position for victory, losing 4-3 to Winnipeg on Friday. While the play style of the Wild is great when faced with a deficit, a defensive mindset must develop when tied or having a lead late in games.
After falling behind 2-0 early in the first period, the Wild fought back to tie the game in Winnipeg at 2-2. The resilience of this team has been remarkable so far this season, but once a contest is tied or in the Wild's favor, the players continue to overlook the basics on the defensive end.
As a result, the Wild blew the comeback attempt on their way to another loss. Afterwards, Wild forward Jason Zucker showed a sense of urgency while talking to the media:
After five games, the Wild's miscues from opening week are turning into potential playoff-ruining trends. In fact, Coach Bruce Boudreau thinks some soul searching is in order already.
If there is any excuse left for Minnesota's rough start to the season, it's the amount of down time between games that has occurred due to scheduling. In a post on the Minnesota Wild's Twitter page, goalie Devan Dubnyk seems to agree that more frequent games will help the squad moving forward.
We're going to have to find a way to be sharper… having some more games in a row here will allow us to do that.
In the meantime, we will quickly see if routine ice time is the cure-all to get this season headed in the right direction. As matter of fact, the Wild won't have more than two days off again until the week of Christmas.
Next, the Minnesota Wild heads to Calgary to finish out a back-to-back road series Saturday night against the Flames before heading home for a six-game home stand. A much-needed one to say the least.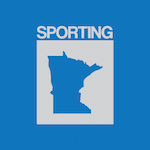 Want your voice heard? Join the Sporting Sota team!
Write for us!
If another loss is suffered tomorrow night in regulation, we will certainly look to the stint at home to prevent an outright panic in St. Paul.