Minnesota Gophers vs. Iowa Hawkeyes: Rivalry Game Preview
P.J. Fleck picked up his first Big Ten win last week as the Minnesota Gophers defeated Illinois. Now they look for two straight in Iowa against the Hawkeyes.
Yes, Illinois was a lesser opponent, and yes, the Minnesota Gophers played poorly last Saturday. However, as the old and overused phrase goes "a win is a win". Now, Minnesota looks to stay alive in the Big Ten against a very up and down Iowa team. The Hawkeyes are coming off a 17-10 loss to Northwestern last weekend.
Of the four wins the Hawkeyes have this season, all are fairly impressive. They dismantled both Illinois and North Texas at home. The Hawkeyes also have a quality win over Iowa State, who is now ranked in the top-25 nationally. It's true that the win over the Cyclones was early on in the season, but it was impressive none the less. A decisive victory over Wyoming round out the four Iowa wins so far this season.
Even in the three games they have lost, the Hawkeyes played extremely tough. They battled with both Penn State and Michigan State, two teams at the top of the conference. Iowa was outscored by the two nationally ranked teams by only nine points in those two games.
The Hawkeyes feature a potent offense, led by Nathan Stanley through the air. In Iowa's seven games, Stanley has thrown for over 1500 yards, 16 touchdowns, and only three interceptions. That 16 touchdown mark is tied for 17th best in the country. On the ground, Akrum Wadley has paced the team with 573 yards and four rushing scores. Needless to say, this Iowa team has the potential to rack up points in a hurry.
This high-powered offense has only been slowed by great defensive opponents. All three of their losses came to teams ranked in the top 50 in total team defense. Heading into this weekend, the Gophers are ranked 25th in the nation. If anything, that is a positive sign for Minnesota fans.
Although the Gophers seem stingy defensively, it does not look that way when you watch them live. Sure, they can create turnovers, but they have yet to do that against veteran quarterbacks. Stanley is only a sophomore, but he has been extremely careful with the football so far this season. I cannot foresee the Minnesota defense fooling him to the point where he makes more than one or two big mistakes. With the Gopher offense struggling, the defense causing turnovers creates easier scoring chances for the offense. Unfortunately, Iowa is extremely careful with the football, which does not bode well for Minnesota.
Everyone was all jazzed up to see Demry Croft under center last Saturday against Illinois, and then Croft turned in a below average performance. He only accumulated 47 passing yards, and threw two interceptions. This is worrisome especially against a very below average Illinois defense. Hopefully, Croft will fair better against an Iowa team that gives up 235 pass yards per game.
Perhaps what has the Gophers salivating most is their tremendous running performances against Illinois. Kobe McCrary rushed for 153 yards against the Illini and Rodney Smith totalled over 100 yards as well. With Shannon Brooks presumably back for this game, P.J. Fleck will rotate all three backs against Iowa. Those three coupled with Croft's running ability will provide some headaches for an Iowa team that gives up 146 yards on the ground per game.
On paper, it seems like Minnesota will run all over the Hawkeyes, but as we know, the Gophers are not great at executing. This was the case in a seemingly easy game against Illinois last week. Sure, Minnesota ran well, but they only beat a dismal Illini team by seven, and it was the defense that scored that game-winning touchdown, not the offense.
Whether or not the Gophers will execute their game plan has yet to be seen. However, it will be primarily on the defense if Minnesota wants to win. If they can limit Iowa on the scoreboard, that will allow the offense to continue to run the ball. The last thing Minnesota wants is to have a shootout with the Hawkeyes because that is a gunfight they just cannot win.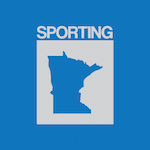 Want your voice heard? Join the Sporting Sota team!
Write for us!
The Gophers are a seven point underdog coming into this game. They did play pretty incompetently last weekend, but I do not think that will carry over. Maybe its just dumb optimism, but I think the Gophers are going to have success on the ground at Kinnick Stadium. Now that I said that, Minnesota will probably gain less that 150 total yards, but whatever. Blame me if the Gophers lose, I guess. I like Minnesota on the road in this game. You will be able to see the game on Fox Sports One at 5:30 Central Time.
Prediction: Gophers 27, Hawkeyes 23