The Minnesota Twins should stay away from Yu Darvish
Rumors are going around that the Minnesota Twins are interested in starting pitcher Yu Darvish, but they'd be wise to reconsider.
Reports are suggesting the Minnesota Twins are in the running for the services of starting pitcher Yu Darvish. Of course, the Twins are likely to be in the running for multiple starting pitchers and bullpen arms in free agency. That being said, there seems to be real steam on the Darvish front.
John Heyman's report suggests the Darvish is the Twins' top starting pitching choice on the market, even higher than Jake Arrieta. Coming into free agency, the two pitchers were viewed as the top ones on the market.
What makes Darvish the favorite for Minnesota is likely due to the fact Twins general manager Thad Levine helped bring Darvish to the Texas Rangers in 2012. As the Rangers' assistant general manager at the time, Levine was quite fond of bringing the top Japanese pitcher to Texas and in the end, it worked out well for Texas.
Specifically, Darvish ended up pitching four and a half seasons with the Rangers before being traded to the Los Angeles Dodgers at the trade deadline. Yet, in his time with Texas, he made four All-Star teams and finished second in the AL Cy Young voting in 2013. For his career, he is 56-42 with a 3.42 ERA and he also averages over 204 strikeouts a year. Altogether, he's been a top end starter, including an ace as a member of the Rangers.
Unquestionably, he'd be an upgrade in the Twins' starting rotation, but the numbers don't necessarily bode well for the 31-year-old moving forward. Since 2013, his ERA has increased each season: 2.83, 3.06, 3.41, and 3.86. He also gave up a career-high 27 home runs last season and has only gone over 200 innings once. Not to mention, he looked awful in two World Series appearances against the Houston Astros this season, giving up eight earned runs in 3.1 innings pitched.
Sure, Houston has a dynamite offense that presents challenges for the best of pitchers in the game, but Darvish looked flat-out overmatched. Furthermore, he tends to do worse at important times in the year. Over the last two seasons, he's posted an 8-8 record with a 3.42 ERA before the All-Star break compared to a 9-9 record and 3.95 ERA after the break. He's also 2-4 with a 5.81 ERA in six career playoff starts.
Considering Darvish is going to make ace money in free agency, there's cause for concern that this big-money move wouldn't be the right one to make. Don't get me wrong, I sorely want Minnesota to spend their money. Recently, Levine suggested they'd be willing to do so, but I think it's important to spend the money on the right guys too. In this case, I'm not convinced Darvish is the ace this club needs.
Maybe, the Twins are willing to go bigger than I'd imagine in free agency. In other words, they'd bring in Darvish on a four-year deal worth over $100 million and still consider other top arms on the free agent or trade market. But, I'd say the chances are unlikely of adding any more big names to the starting staff if they were to sign Darvish. Therefore, the Twins have to be sold on him.
If they aren't, you can't risk paying a pitcher that much money just to end up as a no. 2 or 3 starter in the rotation. I mean, the Twins may as well look at Alex Cobb and Lance Lynn, largely considered the tier below Darvish and Arrieta, in that case.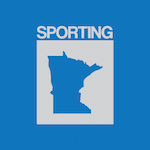 Want your voice heard? Join the Sporting Sota team!
Write for us!
Overall, the Twins need starting pitching and bullpen help and it's great to see them active in the beginning stages of free agency to address those needs. Nevertheless, they'd be wise to reconsider spending ace kind of dollars on Darvish. Instead, they should look into other arms on the free agent and trade market and wait to spend big money on an actual ace-caliber pitcher.