Gophers basketball team shows how much they need Dupree McBrayer
The Minnesota Golden Gophers basketball team played their toughest opponent thus far and looked tough at times without Dupree McBrayer.
Notoriously, Williams Arena doesn't bring in the toughest of opponents for the Minnesota Golden Gophers basketball team. That was not the case on Wednesday night when the 10th ranked Miami Hurricanes stormed into The Barn to take on the 12th ranked Gophers in the Big Ten/ACC Challenge.
A challenge is what it was for the Gophers, too. There's no doubt that Miami was the toughest opponent the Gophers will face in the non-conference schedule. It was also made a lot tougher with the absence of Dupree McBrayer.
McBrayer was held out with a leg injury in the big matchup and Miami took full advantage of the situation, especially late in the game. In the last minutes of the game, Miami went to a four guard set which the Gophers simply couldn't defend well enough with McBrayer on the bench.
McBrayer's absence bumped freshman guard Isaiah Washington into the starting lineup and it was clear that Washington was not ready for the role. Washington did finish with 14 points, but struggled to get there. Washington shot 6-17 from the field, but was 1-11 at one point. A little bit of a hot streak at the end of the game made the stat line look better despite the New York recruit looking out of control most of the game. Washington needs to improve on that if McBrayer is out for an extended period.
Also, credit Hurricanes Head Coach Jim Larrañaga for also mastering an offensive scheme that greatly affected the Gophers' defensive stoutness. Larrañaga ran an offense that drew shot blocker Reggie Lynch away from the hoop which easier allowed the Hurricanes to get to the hoop. It was brilliant and a major part of a blueprint for teams to beat the Golden Gophers this season.
The Gophers only lost the game 86-81 against a very tough opponent. It is just hard to swallow when thinking about how the Gophers might've been on par if they were at full strength.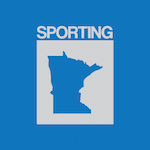 Want your voice heard? Join the Sporting Sota team!
Write for us!
Minnesota's next game is the Big Ten opener already. The Gophers and Rutgers meet up on Sunday.