Minnesota Lynx's Lindsay Whalen to join Minnesota Timberwolves TV broadcasts
Lindsay Whalen is a champion with the Minnesota Lynx and will be bringing that winning attitude to the Minnesota Timberwolves broadcasts on Fox Sports North soon.
The Minnesota Timberwolves did not look like a championship team on Monday night in a very disappointing loss to the Memphis Grizzlies. A championship feel will be on the Fox Sports North broadcast on Wednesday, though. The TV home of the Wolves announced on Monday that Minnesota Lynx star guard Lindsay Whalen will be joining select broadcasts throughout the rest of the season.
Whalen is set to make her TV debut of the season this Wednesday when the Wolves are out in California for a road game against the Los Angeles Clippers. The Hutchinson, Minnesota native is also currently slated to join the broadcast an additional seven more times: Dec. 12, Jan. 1, Jan. 14, Feb. 7, Feb. 23, March 2 and April 5.
According to the release sent out by Fox Sports North, Whalen will be part of multiple aspects of the broadcast. It looks like the main gig will be as a third person on the sideline broadcast alongside the play-by-play of Dave Ben and the color commentary of Jim Petersen.
Fox Sports North also says that Whalen will make appearances on their Wolves Lives programs which work as the team's pre-game and post-game shows with one-on-one interviews and, the amazing vague but impelling, other exclusive content.
Whalen, of course, is well known throughout the state of Minnesota and in the basketball world. Whalen grew up in central Minnesota, attended the University of Minnesota leading the Minnesota Golden Gophers women's basketball team to their best playoff appearance ever in a run to the Final Four, plus she has won four WNBA titles with the Lynx. Whalen also has a couple of gold medals, too.
The accolades go on and on and she should be a great mind to hear from during the select broadcasts this season. Let's hope this is just the tip of the iceberg for Whalen and Fox Sports North.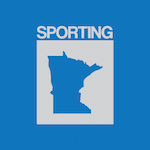 Want your voice heard? Join the Sporting Sota team!
Write for us!
The Wolves and Clippers are set to face off again on Wednesday from California. Tip is set for 9:30 Central.