Minnesota Golden Gophers basketball team on the path to a failed season
The Minnesota Golden Gophers basketball team looked like a team that could make a run to the Final Four and now they look like a team that might barely squeak into the tournament.
Jordan Murphy is having a fantastic season for the Minnesota Golden Gophers basketball team. He has built on the solid 2016-17 season he had and has truly become a double-double machine, so much so that he's breaking national double-double marks along the way. That is about the only thing that has gone to plan for the Gophers this season.
It looked like going into the season that the Big Ten would be controlled by Michigan State, the Gophers and maybe Purdue. A week into the month of January and it looks like the Gophers will have to scratch and claw their way into the field of 68 this March.
The season got off to a good start, but the Gophers haven't looked incredible since they barely beat an Alabama team that only had three available players by the end of the game. Maybe the oddness of the game totally threw off the mojo of the team, but the Gophers simply haven't been the same since.
Injuries have hit hard, too. Dupree McBrayer was out with a leg infection, Nate Mason missed some time with a foot injury and now Amir Coffey might be out for a large period of time with a right shoulder injury. That is not even mentioning the injury to Eric Curry, who was a big part of last year's team, forcing him to miss the whole season. Throw on top of that the likely banishment of Reggie Lynch, the Gophers have been testing their lack of depth all season long.
The Gophers only hope is that senior point guard Nate Mason starts going crazy on the court if they want to make a run of any sort in the NCAA. Either way, it looks like the Gophers won't pay off what looked to be a solid team or get a deep run with Mason at the helm.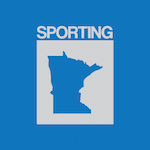 Want your voice heard? Join the Sporting Sota team!
Write for us!
The week ahead will show a lot about how the rest of the season will go for the Gophers. Minnesota travels to a very beatable Northwestern on Wednesday and then return to The Barn on Saturday for a match with the highly ranked Purdue Boilermakers. If the Gophers can beat Northwestern and look respectable against Purdue, well, then maybe the Gophers still have a chance of making some noise this March… but don't hold your breath.