Minnesota Vikings draw toughest playoff test in New Orleans Saints
The Minnesota Vikings know their opponent and it might just be their toughest game of the playoffs.
The beauty of a bye week is that you get to sit at home and watch a bunch of other teams fight it out to have the right to play you the following week. With the Atlanta Falcons' technical upset of the Los Angeles Rams, the Minnesota Vikings knew that they would be facing the winner of the Carolina Panthers and New Orleans Saints game.
At times it was a close game and Cam Newton and the Panthers had a shot to take the lead in the last minutes of the game, but that did not come to fruition. What occurred was what many people thought would happen: Drew Brees and the Saints marched to victory and onto a Divisional Round matchup with the Vikings.
Even though the game with the Saints will be the first game of the playoffs for the Vikings, it could very well be the toughest of the postseason for the purple. There is little doubt that it will be the toughest game against an NFC opponent.
The Vikings and Saints stand alongside the Falcons and Philadelphia Eagles as the four remaining NFC teams. Even though the Eagles are the number one seed, with Nick Foles at the helm, the Eagles are the least feared team of the bunch. Matt Ryan looks to have Atlanta on a roll, but New Orleans is a better all-around team and a tougher matchup for the Vikings.
To put the horse way in front of the cart, the Saints might be the toughest team left all together for the Vikings. If you imagine Minnesota in the Super Bowl, they are likely either playing the Pittsburgh Steelers or the New England Patriots. Both are tough teams and the class of the AFC, but there's a good chance that the Saints are better than both of those squads, too.
That all being said, the Vikings can definitely win and should win on Sunday. It's just always a good reminder that this isn't going to be a cakewalk for the Vikings. The team may have gotten a first round bye, but they might be saying 'bye' if they don't show up in the Divisional Round against New Orleans.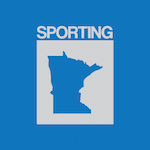 Want your voice heard? Join the Sporting Sota team!
Write for us!
The Saints and Vikings are scheduled to close out the Divisional Round on Sunday. The game is set for a 3:40 kick from U.S. Bank Stadium.