Wild predicted to exit playoffs early
The Minnesota Wild begin their playoff journey tomorrow in Winnipeg and after losing Ryan Suter to a broken leg, it will be difficult to advance past the first round.
The Minnesota Wild begin their first round playoff series against the Winnipeg Jets on Wednesday and the experts are forecasting an early exit from the playoffs for the Wild. It's hard to disagree, no matter how big of a fan of the team you are.
This most obvious reason for Wild fans to worry is the loss of Ryan Suter. Suter has been a constant for the Wild since he signed with Minnesota in the summer of 2012 and his absence during these playoffs will greatly affect the way this team operates defensively and their ability to move the puck up the ice. Winnipeg would have been a handful for this team with Suter, without him, it will take a herculean effort to slow the Jets down.
Additionally, the up in the air status of Jared Spurgeon, who is coming back from a hamstring tear, is another concern going into this series. Spurgeon returning could really help this team and possibly give them the shot in the arm they will need to survive without Suter.
It makes sense for the experts to lean towards Winnipeg here, however, this is the Stanley Cup playoffs and if you are in, you have a chance. Devin Dubnyk has shown in the past that he can get hot and lead this team to victories. If the Wild can figure out a way to somehow solidify their blue line and Dubnyk can get on a roll, it is still very possible for this team to do some damage in these playoffs.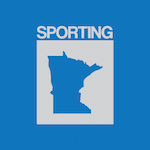 Want your voice heard? Join the Sporting Sota team!
Write for us!