Minnesota Timberwolves: Stephon Marbury open to a reunion with the Timberwolves
Stephon Marbury has been floating the idea of an NBA comeback and he might just want to return to the Minnesota Timberwolves.
The Minnesota Timberwolves have not been good over the past decade-plus, but in the past the team had some formidable teams. Minnesota was set up to make a championship run with Kevin Garnett, Latrell Sprewell and Sam Cassel, but injuries got in the way of that. Before that KG and Stephon Marbury looked like they would be a duo set for a championship, but Marbury wanted to bolt. It turns out that Marbury might want to bolt right back.
How did the Marbury comeback talk get going? Naturally, a tweet from Marbury himself on Tuesday.
Of course, a lot of folks were tweeting Marbury about where he'd want to go if he did truly make a comeback to the NBA. Marbury said that 'Minny is a destination'.
Marbury even responded to Twitter star and GO 96.3 morning show co-host Dana Wessel.
Now as great as a Marbury reunion in Minnesota sounds, let's point out a couple things. A simple quick stroll of Marbury's Twitter feed on Wednesday night shows that Marbury is also open to going back to the Phoenix Suns or New York Knicks or Brooklyn Nets. Also, Marbury is 40 years old and will turn 41 during the next NBA season.
Marbury has not played in the NBA since 2009. In his last NBA season, Marbury played in 23 games for the Boston Celtics and averaged 3.8 points and 3.3 assists.
Since leaving the NBA, Marbury has been a star in China on the basketball court. Marbury has most recently played for the Beijing Fly Dragons of the Chinese Basketball Association.
Could the Timberwolves use another point guard? Probably. Will it be Marbury? Probably not. Have crazier things have happened? Oh, yeah.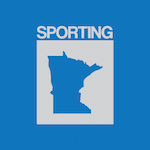 Want your voice heard? Join the Sporting Sota team!
Write for us!