Minnesota Lynx: Second half surge takes Lynx back to WNBA Finals
The Minnesota Lynx will now appear in their third consecutive championship series.
Strong second half play was the theme for the Minnesota Lynx in their series with the Washington Mystics. The first two in Minnesota and the series clincher in the nation's capital were all close games at the half. On Sunday, the Lynx won the second half 43 – 31 to take game 3, 81 – 70 and a sweep of the best of five.
Three point shooting carried the Lynx to victory in the finale. They shot 7-14 from long-range. Maya Moore and Seimone Augustus led the way with a combined five of eight from beyond the arc.
Maya Moore paced the Lynx with 21 points. Seimone Augustus had 18 and Sylvia Fowles had17 along with a very impressive 14 rebounds. Not only did the Lynx shoot well from beyond the arc, but they netted 36 from the paint as well. The Lynx shot 50 percent or better from the floor in all three games of the series.
Minnesota will now take on the Los Angeles Sparks in a rematch of finalists from a season ago. The Lynx are shooting for their fourth title in seven years. The Sparks swept the Phoenix Mercury in the WNBA's other semifinal with a close 89 – 87 win in game 3.
Game 1 of the championship final is set for Sunday, September 24th at Williams Arena. Tip-off is 2:30 central time. Game 2 is set for Tuesday, September 26th from Williams Arena with a 7:00 central tip. The guaranteed third game is set for out in Los Angeles at Staples Center on Friday, September 29 with an 8:00 central tip time.
The WNBA Finals is a best of five series, so the next time the Lynx would play a home game would be in a game five winner-take-all match from Williams Arena.
How do you feel the Lynx will fare in the WNBA final against Los Angeles? Let's discuss.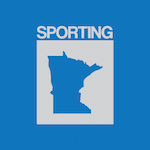 Want your voice heard? Join the Sporting Sota team!
Write for us!