Minnesota Gophers need to row with Demry Croft at quarterback
The Minnesota Gophers need to keep rolling with Demry Croft as their quarterback going forward in Big Ten play.
To say that P.J. Fleck and the Minnesota Gophers have underachieved to start the Big Ten schedule would probably be an understatement. Some might have been too high on the new regime coming into the season, present company included, but three weeks in to conference play there is no reason the Gophers should be win-less. Fleck might have found a key to finding success in the conference in the play of quarterback Demry Croft.
Croft and Conor Rhoda were splitting time at the QB position early in the season when the Gophers were winning during the non-conference slate. Croft was then suspended for breaking team rules and the job was given to Rhoda. Rhoda didn't exactly row the boat in his time as the starter.
Rhoda didn't impress early on in the Michigan State contest which led Fleck to lift him for the newly reinstated Croft. Now the Gophers can't look back, they need to keep going with Croft at the QB position.
Croft along with stud wide receiver Tyler Johnson brought the Gophers back into the contest against the nationally ranked Spartans. Three touchdowns for the connection kept the game close and Minnesota only lost by three when they should have probably lost by more.
Also, Croft just simply fits the system better. The Gophers offense runs a system where it works a lot better if the quarterback might actually run with the ball to keep the defense honest. Honestly, Rhoda can't run with the ball so he did nothing to fool the opposing defense. Croft's mobility and stronger arm both make him the obvious choice at quarterback going forward.
The only question is why wasn't Croft the starting QB earlier? He probably should have been named the starter before he was suspended. The working theory is that Fleck would have loved to have senior Rhoda keep the job this season so he could easily give the starting QB gig to a true freshman in 2018. You still need to win games in 2017, though.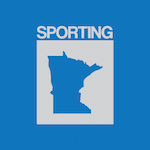 Want your voice heard? Join the Sporting Sota team!
Write for us!
Croft deserves to have the gig and he gives the Gophers their only chance to win some conference games this year. If there is a quarterback controversy during spring practice, well, that's a good problem for Fleck. If there isn't a quarterback battle, then the question will be if Fleck was truly the right head coach hire for the University.