Minnesota Golden Gophers basketball is set up for a Final Four run
Success in sports seems to be a rare thing in the state, but the Minnesota Golden Gophers basketball team is set up for a deep run in March.
I often find myself staring at a computer screen. Sometimes I'm staring at a blank Word document trying to think of what to write. Sometimes I'm staring at Google Music trying to decide what album on digitally want to put on next. It seems lately that I've been staring at the AP Top 25 for men's basketball. You can find the Minnesota Golden Gophers basketball team on that list.
It's not a shock that the Gophers are on the list. If Eric Curry wasn't out for the season due to injury, heck, they'd be even higher than they currently are. The Gophers are currently ranked 14th in the poll and I find myself staring at that because it's just so darn beautiful to look at.
Anyone born later than the early 1990's doesn't have a lot of familiarity with a successful Gophers basketball squad. Take myself for example, I was born in 1994, so I just turned three-years-old when the Gophers reached the Final Four, the Final Four that we can't talk about anymore or that you won't be able to see any evidence of at Williams Arena. So, I don't remember that success, I am sure I was a very excited toddler, though.
Since then, there hasn't been much other than a handful of first round bounces and one single win. Sure, Tubby Smith had a couple teams that broke the Top 25 and made the tournament, but I might be young but I am also wise enough to tell you that Smith thought Minnesota was a retirement and never gave 100% to this university. Smith in his wildest dreams never had a team nearly as talented as this year's Gophers.
The NCAA tournament is dominated by veteran guards. The Gophers have one of the best point guards in the nation in senior Nate Mason.
A great defensive presence will also get teams far in the tournament. Redshirt senior Reggie Lynch is the best defensive player in the Big Ten if not the nation. If he can stay out of foul trouble, the Gophers can funnel driving opponents to the big shot blocker.
It also helps to have guy who can fill the stat sheet up with tons of points. The Gophers currently have all five of their starters averaging double-digits in the points column through three games. Specifically, junior Jordan Murphy has been a machine so far while averaging 25.3 points. Murphy is also averaging 13.3 rebounds a game, too.
Sophomore Amir Coffey might be potentially the best player on the roster. While he is still improving, he is still averaging 13.7 points a game. The only starter that hasn't been mentioned yet is junior Dupree McBrayer and he can fill it up, too.
Head coach Richard Pitino has one of the top point guard recruits coming off of the bench in Isaiah Washington. While Washington has only scored 20 point in three games, the talent is clearly there. Between his handles and a deadly shooting stretch he had against Providence, Washington will be finding himself playing crucial minutes in this Gophers season.
Minnesota's starting five is so solid that it doesn't need a whole lot from the bench beyond Washington. Just a solid contribution from the likes of Jamir Harris and Davonte Fitzgerald would put the Gophers high in the conversation of top teams in the country.
That is what this Gophers team is: a top team in the country. Multiple national observers mentioned the Gophers and the Final Four in the same breath after Minnesota defeated Providence on national TV and for good reason. The Gophers have the skill and the experience to make a deep run in the NCAA tournament and the Final Four is not out of question.
We are only three games into the season for the Gopher, but it's hard not to get excited about this team. The pieces are all there for success and it truly does look like Pitino is the right puzzle solver for the job.
It has been 20 years since the Gophers made a legitimate run at Final Four. Gophers, make me stare at my bracket in March and make me not be able to find a loss.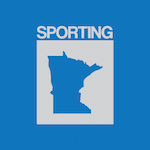 Want your voice heard? Join the Sporting Sota team!
Write for us!
The Gophers continue their march towards March on Sunday from The Barn. Minnesota will take on Western Carolina at 3:30 Central. The game can be seen around the country on Fox Sports 1.