Down 0-2, Wild aren't worried yet
Now down two games in their first round series, the Minnesota Wild are heading home to St. Paul to try and even the series.
After falling 4-1 to Winnipeg on Friday night, the Minnesota Wild are now down 0-2 in the series and return home to St. Paul where they are one of the best teams in the NHL. Sporting a home record of 27-6-8 during the regular season this year, the Wild ranked second behind only, you guessed it, the Winnipeg Jets.
They say you are never in trouble in a series until you lose one at home and this Wild team is more than capable of taking care of business at the Xcel Energy Center and heading back to Winnipeg with the series tied at two games a piece.
Although they have given up too many shots the past two games (40 and 44), they do not look overmatched by Winnipeg's firepower. Devan Dubnyk has stopped 77 shots in two games and is playing well enough to keep them in games, which should be enough to get two wins with a home crowd behind you. The biggest question in the series for Minnesota is whether or not Dubnyk will play well enough to steal a win in Winnipeg.
The players are not panicking and in fact, at the end of the game Friday were sending messages to the Jets in the form of haymakers. Multiple scrums broke out as time was winding down and Daniel Winnik came out on top when the dust settled on his fracas and his post game comments should lead Wild fans to believe that this team is far from done in this series and are looking to get even in Minnesota.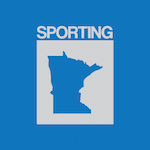 Want your voice heard? Join the Sporting Sota team!
Write for us!