Wild lose Parise, game four, quite possibly the series
The Minnesota Wild lost Zach Parise to a fractured sternum and then lost game four last night to the Winnipeg Jets. All signs point to another first round playoff exit for the Wild.
With Ryan Suter out, the Wild were already faced with long odds to advance past the first round of these playoffs. Now down 3-1 and without Zach Parise for several weeks, the Wild are going to need a comeback of epic proportions to advance to the second round.
Yes, there was a missed cross-check while the Wild were on a power play. Yes, a 5-3 advantage at that point in the game would have changed the complexion of the contest completely. The reality of the situation is that there were still two periods of hockey left to play and the Wild couldn't find a way to put the puck in the net. Devan Dubnyk gave his team the kind of performance that should lead to a win at home, stopping 26 of 27 shots and yet here the Wild are again: down 3-1 in a first round series.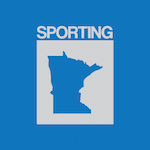 Want your voice heard? Join the Sporting Sota team!
Write for us!
This year is a perfect storm because of the injuries to Suter and now Parise. How can you accurately asses a team that is not operating at full strength? How then can you decide what needs to be changed or fixed in the offseason? But here is the most important question: How can you just stand pat?
There is a lot going wrong for the Wild right now and although the odds will tell us it is highly unlikely they will win three games in a row, there is still a chance. As 2003 taught us, hockey is strange and anything can happen in the Stanley Cup playoffs but it sure looks like the Wild will have decisions to make in the offseason.