Minnesota Gophers Preview: Face Illinois on Homecoming
A struggling Minnesota Gophers team welcomes the equally miserable Illinois Fighting Illini to TCF Bank Stadium for the annual Gopher homecoming game.
The Illini could not be coming at a more perfect time. The Minnesota Gophers have struggled mightily in conference play, but showed promise in the loss to Michigan State. Any momentum gathered in that game could translate into this game. The mere fact that it is homecoming will also provide a boost to the Gophers. It is seen as an embarrassment to lose your homecoming game, and Minnesota will not want to disappoint an already disgruntled fan base.
Illinois comes into this game off a loss to Rutgers. As any casual Big Ten football fan knows, Rutgers has been the laughing stock of the conference since it joined in 2014. This sentiment was reinforced with their 56-0 loss to Ohio State two weeks ago. Yet, they were able to come out last week and beat Illinois. Needless to say, the Illini are sure to be dejected coming into this contest.
Illinois' two victories came against average competition, not to mention the games were relatively close. They only beat Ball State by three points and Western Kentucky by 13. However, Illinois comes into this game riding a four game losing streak. In those four losses they have been outscored by their opponents 155-69.
It goes without saying that the Illini defense has struggled so far this season. They have surrendered nearly 31 points per game while allowing 421 yards to the opposition per contest. Perhaps most importantly, at least in Minnesota's case, they allow 197 yards on the ground per game. With a Gopher quarterback situation that seems to be up in the air, they will utilize their running attack.
The offense of the Illini is not too impressive either. Their paltry 18 points per game ranks 120th in the nation (that's out of 130 listed schools). Despite having a semi-familiar name at quarterback, Illinois has struggled through the air. Jeff George Jr. son of the former NFL quarterback has thrown for 765 yards, but has hurled seven interceptions to just three touchdowns.
Quite frankly, there are very few redeeming qualities in this Illinois team. Their tendency to turn the ball over has to have the Gopher defense salivating. Regardless of Minnesota's defensive performance the past three weeks, this is an incredibly favorable match-up for them. The truth is, this Illini team does very little fighting, as their name inaccurately hints at.
Obviously, this is not grounds for the Gophers to take it easy. They are favored in this game, by 14 points, but that should not mean anything to Minnesota. Knowing P.J. Fleck, complacency will not become an issue against a lesser opponent. If anything, Minnesota will look to dominate early in what will be an electric atmosphere.
The success of Minnesota's offense after Demry Croft took control last Saturday is promising. As of Wednesday, Coach Fleck has not named a starter yet. Honestly, I would not expect him to declare a "starter" per say. However, I would hope Croft would get a majority, if not all of the plays come Saturday. With that being said, Conor Rhoda may make an appearance or two, especially if the Gophers have a comfortable lead.
Croft added a much needed kick in the pants last Saturday. His electrifying play-making ability is exactly what the Gophers needed. Croft's strong arm also makes him a real dual threat to any defense. He may just dominate all day long against a very flimsy Illinois defensive unit. However, expect to see plenty of Shannon Brooks and Rodney Smith as well. Brooks especially has been really explosive and fun to watch the last few weeks. Chances are, he may break a few big runs come Saturday.
I do not want to jinx myself, but I have had two straight spot on uniform calls the past two weeks. With this being the homecoming game, I would expect something elaborate and possibly eye-gouging from Minnesota. If I had to make a prediction, I would say the Gophers will sport yellow jerseys and maroon pants. Given the magnitude of the occasion, you can expect something interesting for sure.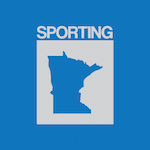 Want your voice heard? Join the Sporting Sota team!
Write for us!
This game really is a flip-flop on the common Gopher headline. It has often been said this year that the Gophers do not have the "horses" to keep up with the conference. In this case, Illinois does not have the "horses" to hang with Minnesota. I'm not sure if that is a testament to how bad Illinois is or how average Minnesota is, but it's good for the Gophers in any case. Tack on the homecoming atmosphere and I see the Gophers taking care of the Illini. You can watch the game at 2:30 Central Time on the Big Ten Network.
Prediction: Gophers 34, Illinois 17